Full Product Set- Enjoy them all! (6 Products)
Regular price

$108.00

Sale price

$107.00
Saw Tabitha's video? In this bundle she used our Rosemary Mint Shampoo and Sage Conditioner as def one of her favorites. This full set also includes Hello Curls, CoCo Fresh Leave in Conditioner, Curly Tings Gel and now our new addition Vanilla Rain.
Did you know?? We've revamped all of our formulas to focus on that one thing that matters most?....Hair growth! We've searched all over and now are importing ingredients that truly moisturize, define, and stimulate those follicles for growth.
Tips: If you have very dry hair, check your diet first. Be sure to get your Omega's, plenty of water and Fruits n Veggies. Yes these matter! Then make sure your water is not hard or at a higher ph than normal, you may need to install a filter.
Next be sure to give your self deep conditioning treatments and steam treatments if you can. Keep your ends trimmed (professionally) and use enough product on your hair! ENJOY Oh yeah here are a few good sealant oils try: Shea Oil (not butter) Avocado Oil Castor Oil or Sunflower Oil, these oils will also help give your hair good healthy plant proteins!
Ingredients
Share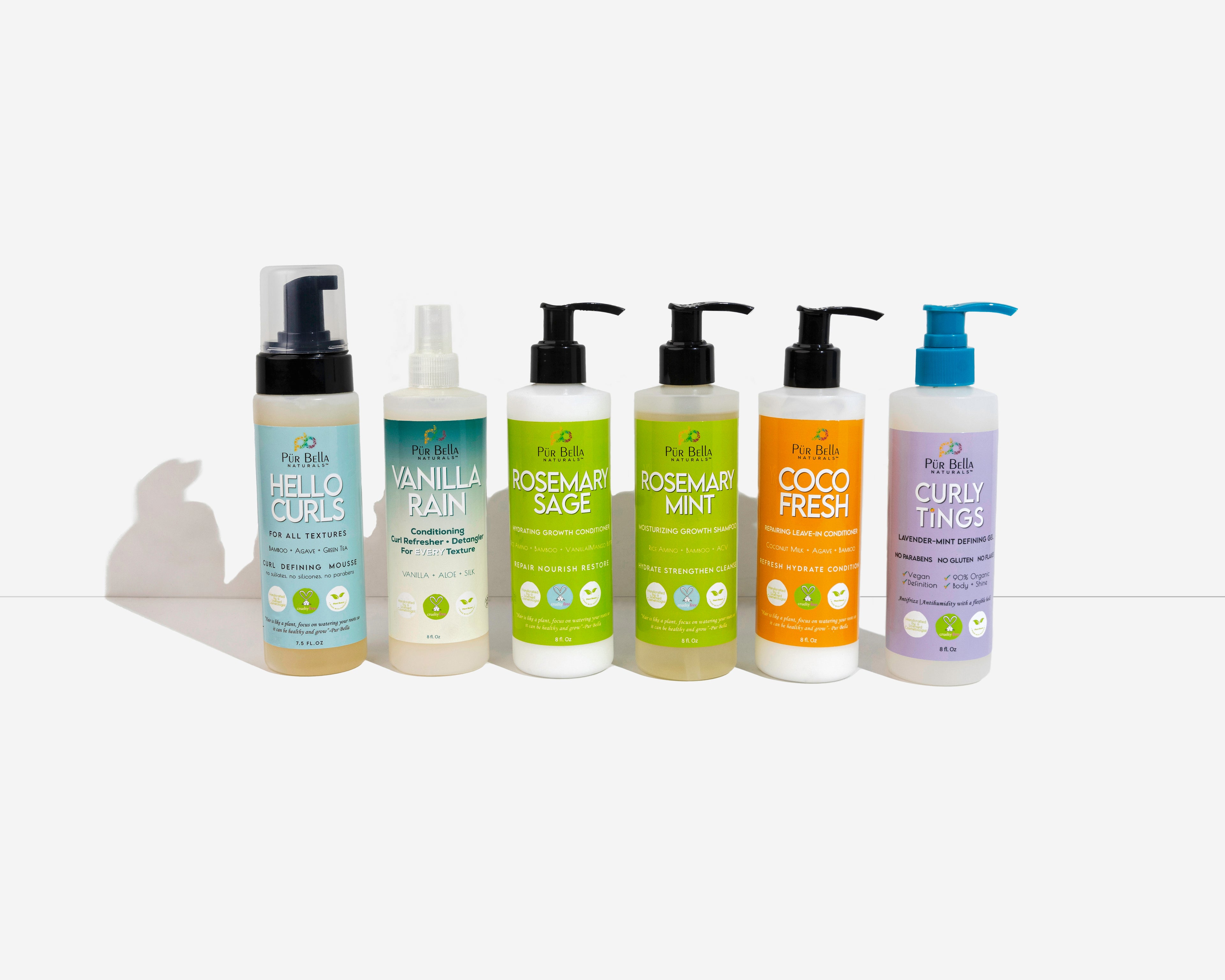 Guarantees
Clean Beauty

Clean and earth based with non-toxic ingredients.

International Shipping

Shipped throughout the US and surrounding countries

Sustainability

Some Packaging is available for refills upon Request

Authorized retailer

We have authorization to carry all brands listed. For collaboration inquiries, please contact.
"Hair is like a plant, Focus on nourishing and watering your roots so it can be healthy and grow" Lashanda DeBerry
FAQs
Are your products natural/organic?

Our products combine the power of naturally occurring and advanced science ingredients that are simple to use, highly effective, non-toxic, non-irritating, and absolutely cruelty-free. Our products are Salon Tested and Client approved.

If you have any known or unknown allergies to essential oils or plant extracts please perform a patch test before use. We do not claim 100% natural but we do boast of over 85% naturally based and organic ingredients in all products. All products do contain preservatives which allow your use and sustainability of up to one year.
Are your products safe for children?

PurBella is safe for the entire family
Will your product help with Moisture

Our products are formulated to elevate the level of moisture and hydration to your hair. Moisture is obtained over time if your hair is not already in healthy state. There are different factors such as porosity, DNA characteristics of your hair, the ph level of your water at home and the consistency of how and what you are using to cleanse and condition your hair.

Amongst other things, To help with moisture if you are experiencing dry hair

Please see a professional if your hair is damaged.
Deep condition at least once a week.
Use steam hydration treatments and determine if you are in need of a protein treatment.

Please follow the blog for more tips on maintaining moisture.
What is the Shelf Life of your Product?

All Beauty products need to be used by a certain period known as the period after opening, kept in a cool space away from sunlight, as this will lessen the effects of the essential oils and extracts.

Products should be used within 12 months of opening products and if left in a hot environment this will damage the efficacy of ingredients this does not apply to shower or bath area where heat is only for a short period of time.
Reviews
I just wanted to let you know that i received Hello Curls!!! It is absolutely amazing. Love. Love this product. It has my curls POPPIN! Thank you so much for this amazing product. Can't wait to order more!!

Rochelle
I just wanted to say Thank you for a wonderful leave-In conditioner product. I love the smell and my curls are popping. Thank You!

Michelle
Ms. Bella,

I felt it was very important for me to let you know how happy i am with your amazing products. You know that I have had many questions about using the product and my dryness. Well today i went to my beautician for color and trim. Well i took my PurBella leave-in conditioner and Hello curls to be used instead of what se usually uses. When she applied the leave-in she said "well it does what it says" then hello curls abd i reminded her i need to sit under a cool dryer. Finally I am overjoyed with the results. it has taken some time but i can truly say it works. Thank you for your outstanding products and support.

Brenda